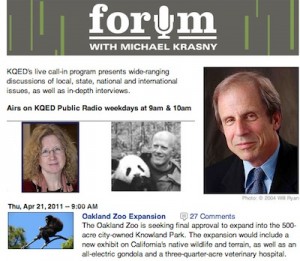 On April 21, San Francisco Public Radion station KQED presented a discussion on their nationally recognized Forum program of the Knowland Park – Oakland Zoo controversy.
Host Michael Krasny interviewed FOKP Co-chair, Prof. Ruth Malone, and Oakland Zoo
Director, Dr. Joel Parrott, as well as others, and took listener comments in email and on their website on the air.
This one hour program delved deep into the issues and opinions on both sides, and is well worth listening to.
Click here to listen to the Program…