by Laura Baker and Donna Reynolds
Guests at the talk by wildlife biologist Jim (Doc) Hale on Friday night were treated to fascinating accounts of his encounters with East Bay wildlife.  Jim grew up in the area and has been a wildlife biologist for over 40 years, tramping the hills, valleys, woodlands and creeks of Contra Costa and Alameda Counties.  During the course of his career, he has studied nearly every local critter you can imagine from badgers to bobcats and skinks to skunks.
His current focus is mountain lions, and the message he brings to us about these beautiful and charismatic creatures is one of hope.
Click here to see a video of his talk (1 hour length).

We  share our parks and open space with mountain lions on a 24-hour basis.  These beautiful and charismatic creatures have found a way to adapt to our suburbanized environment by working the graveyard shift. While we're snug in our beds, mountain lions and the other nocturnal wildlife that Jim studies (he reports 30 bat species and numerous owl species in the park) are out making a living in the same park land where we might have hiked earlier that day.
And that's ok.  Mountain lions will continue to appear among us, popping up in neighborhoods, parks, vineyards, and backyard trees. But we don't have to shoot them.  Jim, and others like him, have been trained and certified to relocate the lions before police shoot them.
Donna Reynolds' partner Tim Racer attended the talk and described it so vividly to her that she was moved to write up and post the following on the Chabot Park Highlands Homeowners' Association website: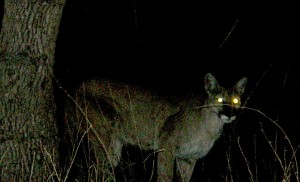 A fabulous talk last night from James Hale on wildlife in our hills. 
He relayed that there are "conservatively" 30-50 lions in Alameda/Contra Costa counties, and "definitely" established lions in the Knowland Park area. There are typically one male, several females, cubs and several transients in any given slice of territory. Lions are incredibly elusive and even those who study them rarely get to spot them. "You are 1000 times more likely to get killed by lightning than by a lion." There have been only five attacks from lions on humans since the late 1800s.
Hale tracks the lions to identify them as individuals by paw print tracks. Their territories are overlapping now that they're squished by urban life, but they seem to be working it out without fighting, and scratch up trees and piss on them to let other lions know when they're moving through shared territory.
Bobcats are easier to spot, it seems. Hale said there were "tons" of bobcats roaming around here and surprising to me, there are also wild boar and long tailed weasels in Knowland Park. 
There is also a red fox abatement program going on — when one is spotted, it's eliminated if possible (not clear on how its eliminated). The red foxes in the east bay hills were accidentally introduced — escapees from a fur farm that have been making life very hard for the native grey fox. The turkeys are non-natives too, and are doing their share of damage to the native wildlife and eco-system.
Oh — and two bald eagles have been wintering at Lake Chabot, so keep your eye out for the telltale wingspan (that doesn't rock like a turkey vulture).
Very exciting stuff. Lucky us who get to live right in the middle of so much nature.
---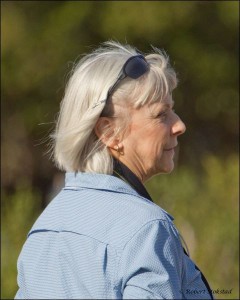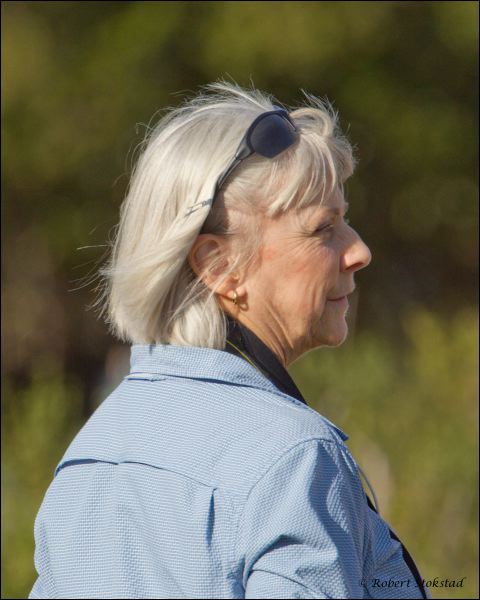 Laura Baker is an environmental activist and former Conservation Chair of the California Native Plant Society. Growing up in Missouri, she learned that the cure for most ills rests in spending time out in nature. She wishes for every child to have the experience of wholeness that nature provides. Laura holds an M.A. in Ecology and Systematic Biology.
Laura's Knowlander blog is dedicated to building an online library of the natural history of Knowland Park so that the public may enjoy the park for the natural heritage treasure that it is. Knowing the land is a never ending process of inquiry open to all. We welcome your comments, contributions, and photos.