If you've been following the big Oakland Zoo development proposed for the highlands of Knowland Park, then you've heard that one of the problems is the sheer cost of it.
But that's okay, some say, because it will "pump millions into the economy" as Bay Area media outlets reported last summer. However, a closer look suggests that a respectable segment of the millions needed to build the Zoo's theme park will be pumped directly from the front and back pockets of East Bay residents (See blog "It's Your Zoo – You're Paying (and Paying and Paying) for It – May 11, 2012).
One of the public pockets being used is the City of Oakland Measure G bond indebtedness fund passed in 2002 (not to be confused with a later Measure G for an Oakland Unified School District parcel tax in 2008). This Measure G allowed the borrowing of $59 million to build facilities for the Zoo, Oakland Museum, and Chabot Science Center (another $53 million was added onto that for interest charges). The Zoo would receive 40% of the borrowed funds for both a Children's Zoo and for a "Wild California" exhibit.
Indeed, a majority of citizens, including myself, voted for and passed Measure G, relying largely on the Zoo's project description in the official voter information pamphlet. However, the project description in the voter guide bears almost no similarity to the development plans now underway by Zoo and City officials.
Elected and Zoo Officials' Creativity with Measure G
1. Taking more land than authorized – Under the Measure G bond vote, Oakland voters approved spending money on a 40-acre Zoo exhibit (Voter pamphlet, pg. 24).
Instead, the Oakland City Council has approved a project that would allow the Zoo to use an additional 16 acres of City parkland, now a 56-acre exhibit.
2. Project's "undisclosed location" – what voters were NOT told
Nowhere in the official voter pamphlet were voters told that the Zoo would be allowed to take over and develop into Knowland Park, the most beautiful remaining natural park in Oakland. In fact, mention of the words "Knowland Park", or disclosure of plans to use the Knowland Park highlands for a large development, was entirely missing.
We were led to believe in the official voter guide that the development was to educate visitors about the "challenges to conservation" and to be about "preservation of California's ecological heritage" (Voter pamphlet, pg. 20, 26). Likewise, the City's only Zoo plan of record at that time called for using already disturbed land for the exhibit (1996 Oakland Zoo Master Plan, page 8, 14, & 16).
Instead, last June in the middle of budget hearings, the Oakland City Council approved a Zoo project plan that would apply Measure G funds to a development in the heart of Knowland Park's rare native grassland prairie, maritime chaparral, and oak woodland.
3. Public now on the hook for a 34,000-square foot building – When Oakland voters approved bond funds for the "Wild California" project, the City's only approved Zoo plan on record specified a 7500-square foot Interpretive Center (http://www.saveknowland.org/FoKP/Files/PRR5870/000001-000267/000039.pdf).
Instead, the City Council has now approved using public money to build a three story, 34,000-square foot building prominently set onto the Knowland Park ridgeline. The building has been tripled in size in part to add bay view offices, likely intended for Zoo management. One might ask: how does Measure G's intent to "enrich and significantly contribute to meeting the ever expanding needs of a dynamically growing and diverse (Oakland) population" (Voter pamphlet, pg. 23) match up with funding ridgetop zoo offices?
(Oh,…and the massive building approved by the Council is now re-sited immediately adjacent to the rare maritime chaparral in the park, an ecologically-rich California plant community that serves as habitat to the threatened Alameda whipsnake protected by the state and federal Endangered Species Acts).
In sum, when voters approved going into more debt with Measure G, it was for a 40-acre project specified for already disturbed land and hosting a visitor center of 7,500-square feet. Instead, the Zoo and Oakland elected officials now plan to use this bond money for a VERY different development plan.
Voters will instead be tapped to pay for a development that has been moved into the heart of Oakland's most beautiful, natural heritage park, takes another 16 acres, triples the size of the originally intended visitor building, and adds panoramic view zoo offices.
While other municipal zoos have successfully developed regional animal exhibits at less than 20% of the cost and without losing treasured natural areas, City and Zoo officials justify the grandiosity and cost of this project by claiming that "millions of dollars" would flow into the Oakland economy. Long time East Bay voters may be disconcerted by the sense that they have heard all this before. In fact, some of these past projects (championed, it seems, by some of the same multi-term City and County elected officials) continue to this day take millions out of Oakland residents' pockets, diverting funds from basic City services and projects genuinely needed for a vibrant, attractive Oakland.
Last November, voters turned down a Measure I parcel tax measure placed on the ballot to avoid cutbacks in City services. One reason cited for the defeat was that the voter handbook didn't have information specifying how the money would be spent. One concrete way for Oakland and Zoo officials to help restore voter trust would be to abide by what was described and intended in the Zoo's existing Master Plan and voter handbook for Measure G as the voters approved it.
It's your City and County government (and Zoo for that matter…Oakland residents wholly own the land, animals, and facilities of the Oakland Zoo). Ask your Council and Board of Supervisor representatives to provide specific details about how much of the funding for this big Zoo development will come from local pockets (i.e. from your parcel taxes, publicly-financed grants, bond funds, special taxes, long term interest payments, valuable public land for free, etc.) And, to spend these bond funds on the project you placed your vote for.
---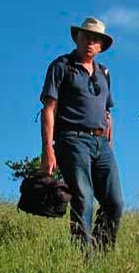 Jim Hanson grew up in the East Bay and originally heard about out the City's development plans for Knowland Park from the East Bay Chapter of the Native Plant Society and the Sierra Club Yodeler. A landscape architect, Jim appreciates the subtle beauty of the native bunchgrass prairies and meadow lands of California. He has served on the Board of Directors of the California Native Grasslands Association for several years and was recently elected its President. He likes to take fellow Oaklanders and Bay Area visitors to the Knowland Park highlands to point with pride how a vibrant, busy city still keeps its natural wealth.