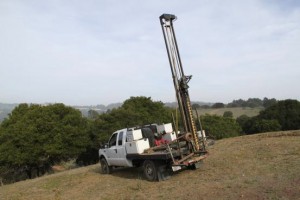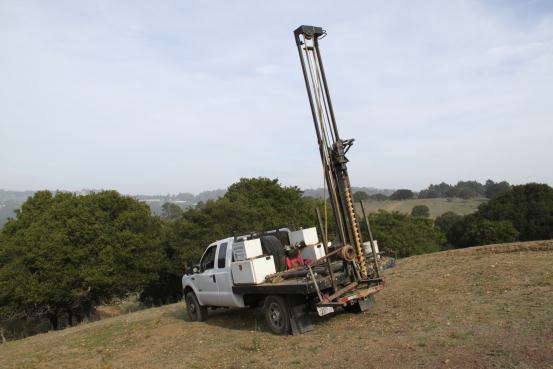 After we reported last week about the zoo's contractors drilling holes and damaging sensitive wildlife and plant habitat prior to receiving  permits from the state and federal wildlife regulatory agencies, an alert Park supporter Friday  found the zoo's contracted biologist and a small crew with rakes trying to cover over the tire tracks, remove concrete from the holes, and cover them with imported dirt. When we arrived on the scene to video, the first worker said they were covering tire tracks, the second one said they were "pulling French Broom" which was ridiculous since a) they had no pulling wrenches, only rakes, and b) there was almost no broom visible, since our Knowland Park Coalition work crews have already pulled most of it out.
The biologist, when asked, had a third explanation as he tried to stomp down the strange yellow-colored imported soil into the holes: "we got a report of some holes up here and didn't want anyone to fall" so they were filling them in.
First short video of Park biologist.
Second short video of Park biologist.
Since the back of their truck (one of four vehicles in which the crew arrived) held only pieces of broken concrete and rakes, and since the biologist had been heard calling for "help with this concrete over here" and then refused to answer when asked about it, it appears they were trying to cover their tracks from the previous damage.
It's clear they are sweating something—so let's turn up the heat!
RALLY THIS SUNDAY: We need every single person who supports the Park to stand up for it by turning out for our rally!
PLACE: At the zoo entrance driveway
DAY: SUNDAY, JANUARY 5 (THIS SUNDAY).
TIME:

PLEASE ARRIVE AT 1230 PM so we have time to distribute signs, etc.  Bring water, sunscreen and your cheerful, resolute protect-the-park spirit!
PARKING: Allow time for parking on nearby streets and walking to zoo entrance; please carpool, if possible.
We'll have everything prepared so you don't have to do anything but show up—but for planning purposes we need to know how many are coming, so please email us at info@friendsofknowlandpark.org  and let us know if you can be there.
It is critically important that we turn out a good crowd, so PLEASE try to take an hour out of your busy weekend and exercise your right to express your support for keeping our wonderful Park wild and free to all. It's a good way to celebrate the happy new year with others who care about protecting our last remaining wildland open spaces at the urban interface.  These areas are so critical to the survival of native species—and to the health of people, who need quiet peaceful places close to home.
Regardless of how well-intentioned the zoo's original expansion plans may have been, times have changed. It's not OK anymore to drill, bulldoze and fence off habitat in order to teach people about conservation, especially when that habitat is home to rare plant communities and threatened species—not to mention all the other native animals that use the land in its natural state. Lots of money and time has gone into these plans, we know—but that's all the more reason to get it right and have the values of authentic conservation guide the plans. It's up to us to stop this misguided use of taxpayer dollars and public parkland!
To Dos:
Email us to let us know you will attend the rally next Sunday at the zoo entrance: info@friendsofknowlandpark.org
Sign our 2 petitions: saveknowland.org (petition links on right side of page)
Spread the word!
Thanks for everything you do to save our beautiful Knowland Park!