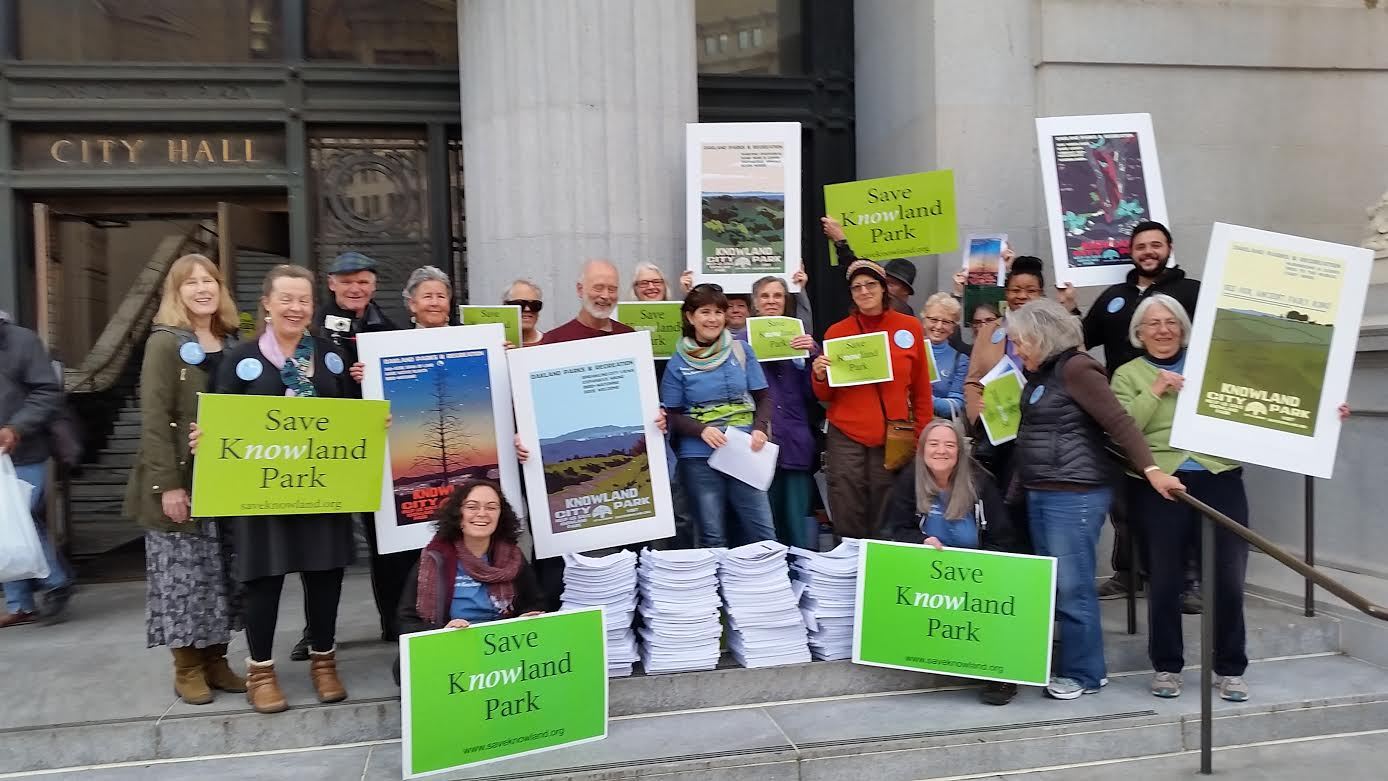 A little less than a month ago, the Friends of Knowland Park launched a referendum campaign to overturn a City Council ordinance that took away 53 acres of the heart of Knowland Park from public access forever.
It was an amazing grassroots effort based on believing that the people of Oakland should decide the fate of their public parklands. We took that message to the Oakland public and they responded – thousands upon thousands of people signed our petition and asked what more they could do to help.
In less than 30 days, even through the challenges of the holiday season, over 8,000 registered Oakland voters signed the petition, indicating they want to be the ones (not the City Council) to decide whether the zoo – or any developer – should be allowed to take over Oakland public parkland.
While we didn't reach the 21,000+ signatures necessary to place the referendum on the ballot, which means the public won't get to vote on this taking of their parkland, we're moved and energized by the outpouring of public support for our parks and open space.
We salute the heroic, determined and tireless efforts of our volunteers, who stood for hours in the cold, worked through the holidays, and pushed forward with spirit and determination, despite the odds.
We are deeply grateful to our generous supporters who donated whatever they could to keep us going.
We're astounded at what we accomplished together.
---
But this is about way more than a referendum…
---
Let's be clear about what's going on.
Both the zoo and Oakland city government have made it apparent by their actions over two decades that they are willing to abandon the doctrine of public trust whereby we rely on our government and parkland caretakers to stand up to protect our limited natural resources from development, and to preserve the public access that drives our collective quality of life.
We rely on them to safeguard our city's natural resources to ensure that our children's children can enjoy the treasures of remaining authentic wildland spaces we value today.
Time and again, our Oakland city government – the city council, the city planning department, the city attorney – has worked against the public interest in Knowland Park. They view developers such as the zoo operator as their clients, rather than serving the public for whom our parks are held in trust.
Even on the very last day of our referendum effort, when we arrived to submit over 8,000 signatures to the city clerk, we were informed that the city attorney had issued a last-minute letter directing the city clerk's office not to accept a single one of our signatures, claiming the public never had a right to vote on overturning the ordinance at all. While we're clarifying the implications of this action, the city's refusal to acknowledge the validity of our referendum effort can be seen as another seriously disturbing tactic used by those who are supposed to represent our interests, as they give away our parkland without any real public scrutiny. This behavior by our city leaders is unacceptable and needs to change.
Our referendum campaign succeeded in demonstrating a deep desire for public debate about who gets to decide the fate of our parks.
This conversation will not be silenced – neither here in Oakland, nor across the country, because it's based on growing public awareness of a fundamental wrong: abandonment of the public trust. We will continue to fight for Knowland Park, and we are joined now by thousands of Oakland voters who insist that our public voice must be heard.
Tom Cieszynski, Beth Wurzburg, Mimi Pulich and Karen Asbelle for Save Knowland Park Referendum Committee