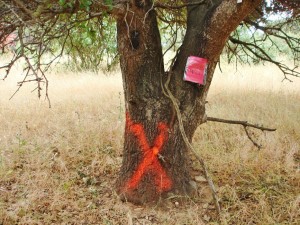 The Oakland Zoo has applied for a permit to cut down 57 California live oaks and other native trees in the heart of Knowland Park. This is the public notice. Red tags are now attached to trees that would be destroyed.
Click here to protest the "tree removal" permit application. Or send your own letter to gluster@oaklandnet.com or by postal mail to Tree Services Division, 7101 Edgewater Drive, Oakland, CA 94621.
Deadline for public comments is Tues, June 23.
Please help save these protected trees from the chainsaw!
Click NOW to send your objection, then share the link