Archive | Nature & Wildlife
RSS feed for this section
Oakland Zoo's proposed expansion into Knowland Park goes from bad to worse
July 28, 2014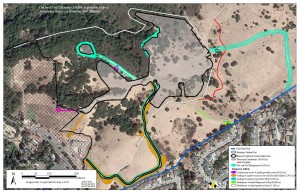 The Sierra Club has grown increasingly concerned about the California Trails exhibit that the Oakland Zoo proposes to build on the ridge line of Knowland Park. The City of Oakland approved the fifty-six-acre project in 2011 on a fifteen-year-old Mitigated Negative Declaration. Since then, however, the permitting agencies have provided significant pushback to the zoo's claim that the project would have no significant environmental impacts. The California Department of Fish and Wildlife (CDFW) recommended that the project be built within the zoo's existing footprint to avoid significant impacts to rare plant communities and to the threatened Alameda whipsnake. The U.S. Fish and Wildlife Service (USFWS), meanwhile, sent the zoo's application back to the drawing board, noting that the project is at best conceptual.
Expansion Controversy
SPEAK UP

Blog Categories
Regular Bloggers

We support Oakland's public spaces!