Contribute to the No on A1 fund!
Checks should be made out as follows:
Payable to  No on A1 to Save Knowland Park
Subject line  Sponsored by East Bay Chapter, California Native Plant Society
Mail checks to
Lee Ann Smith
Treasurer, Friends of Knowland Park
111 Shadow Mountain
Oakland, CA 94605
The Fair Political Practices Commission requires us to collect your occupation and employer for contributions over $100. We will not share or sell your contact information.
Unfortunately we are not able to accept PayPal donations for the campaign at this time.
Other ways you can join the fight:
Email us to learn more about what you can do. Do you have experience and skills you could donate to help us protect the park?
Spread the word to your friends, neighbors, fellow nature and open space enthusiasts, dog-walkers, hikers, or people who just need a breath of fresh air.
Contact your HOA/Neighborhood Association and let them know you want them to protect Knowland Park.
Print and Post a Flyer at your favorite message board, dog park, vet clinic, coffee shop, etc.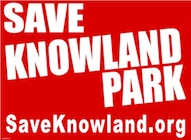 Contact your favorite local environmental organizations, and let them know you want them to support the preservation of Knowland Park.
Get out and walk in the Park every day. Remember that this wonderful space may not be here long if we cannot convince the zoo to rethink their plans!